A renovated 1930's cottage dubbed "The Gingerbread House" for obvious reasons. It is absolutely adorable….
Vacation Rental Permit number STMP 2015/0001 SUP2 2013/0013 TA-120-338-0224-01
Th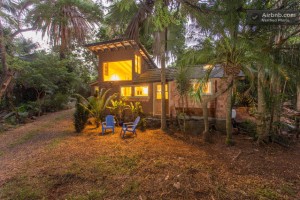 e cottage is fully equipped with a kitchenette—fridge, microwave, counter top stove, coffee maker, toaster oven, outside BBQ. It has a queen sized bed as well as a twin day bed. The high cathedral ceilings, and outdoor lighting in the trees make this place extra special…Seen in the photos below is the outdoor patio we added, so you an sit outside, and the chiminea, outdoor fireplace.
It is said that Jimi Hendrix stayed in this cottage in 1970 when he was on Maui filming Rainbow Bridge… This is the perfect honeymoon cottage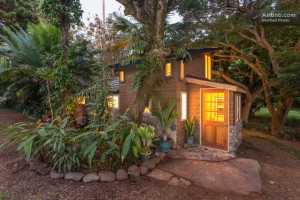 or retreat for writers, artists, or spiritual seekers.
Wi fi is available on the property…but not necessarily in the cottage. This private property is located on 4.5 acres of absolutely beautiful lush forest and garden greenery…. like Hana without the drive! We are 15-20 minutes from the airport, Costco, etc. 10 minutes from a beautiful beach, world-class windsurfing, kite surfing and surfing locations and 5 minutes to some of Maui's best shops.
The property has a gated driveway and is shared by the neighboring Sacred Garden, a peace sanctuary and nursery featuring tropical plants, and gift items, two walking labyrinths, a meditation room, and the world's most beautiful Buddha garden. Complimentary tea and hot chocolate are always available. This additional 4 acres is accessible to our guests.
The property also features an organic nursery, banana trees, orange trees, coconut, noni, betel nut, date palms, macadamia nut, lychee, mango, avocado and a coffee farm of over 600 coffee trees. There is a seasonal stream in the back yard that offers an ever-changing landscape. The two properties together offer 8.5 acres to enjoy.
Sleeps 2 (one queen bed) and runs $250-325 a night depending on the season.  Hawaii State Transient Accommodation Taxes and GE taxes are 17.41%. A cleaning fee of $175 is required and a credit card is necessary as a security deposit. House Rules
We also have a 5 bedroom Log house on the property and the neighbors also have charming vacation rentals so if you have a larger group, wedding or retreat (Maximum of 10)….let me know!
To Book Now or check availability, use booking field below or call 808-243-7284