Eve Hogan, a certified labyrinth facilitator and author of :
"Way of the Winding Path: A Map for the Labyrinth of Life"
This book provides histori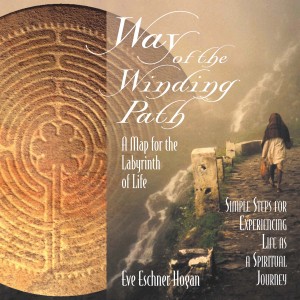 cal information on the use of labyrinths throughout time as well as its use as a nondenominational path of self-discovery.
      The labyrinth provides the perfect experiential tool for practicing:
      the skills of self-observation,
      removing obstacles to success,
      gaining perspective and insight
      choosing appropriate action.
Participants have the opportunity to walk the labyrinth to discover, first hand, its many beneficial attributes leading toward greater balance and harmony both internally and externally.
Eve offers monthly full moon labyrinth walks at The Sacred Garden on Maui, in addition to free access every day to the two labyrinths housed there. Click Here for the Labyrinth Walk Schedule.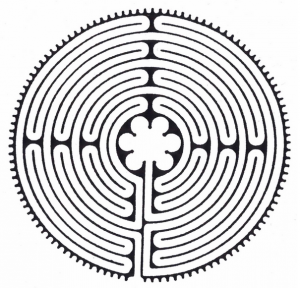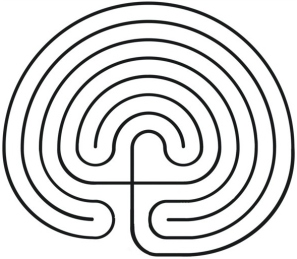 Private workshops and presentations are available by appointment for your Maui Retreat, Family Gathering or private coaching session. Eve also offers tours of the various labyrinths on Maui.
Eve has two portable canvas labyrinths (one on the mainland and one in Hawaii) that she can bring to your conference, retreat or event. These labyrinths are 36 x 36 feet in diameter.
The Labyrinth is an ancient pattern that has been used for centuries as a tool for self-discovery.
This design looks much like a maze, however it differs in that it has no dead ends or tricks. The labyrinth has a single path that leads into the center and back out. These patterns have been found in cathedrals throughout Europe, where they have been used for centuries for gaining clarity and insight. Variations of the design and its use have been found throughout the world.
Now, in the twenty-first century, labyrinths are being used in churches, retreat centers, community centers, schools, businesses and hospitals as a place where people can go to renew their strength and activate their creativity. By walking the pathway, they find that they are able to unwind from the stresses of their busy lifestyles and are better able to access their intuition and problem solving faculties. The labyrinth is a powerful tool for seeing situations from a new perspective and regaining peace of mind.
 • Activate the creativity of your right brain
• Release stress and gain clarity
• Discover creative solutions
• Engage your concentration and focus
• Discover metaphor as a powerful teacher
Three stages of the labyrinth walk:
Letting Go– The walk into the labyrinth is a time for self-observation and a releasing of the obstacles in your life; a quieting of the mind in preparation for reaching the center.
Illumination–The center is a place of meditation and insight. Guidance is received and balance is achieved.
Union– The return walk out is a time to align with the heart path for which you feel your soul reaching and bring your renewed strength and perspective back out into the world.
Bring this wonderful and unique experience to your work place, school, conference, party, church or other special event!
Labyrinth Walks are also great for spouse programs at conferences, team building exercises and closing ceremonies.Some of Eve's labyrinth clients have included:Four Seasons Wailea, Rancho La Puerta Spa, Golden Door Spa, PSI Siminars, Hawaii Child Protective Services, Pennsylvania State University, CEO Space, Catholic Church Concerned Women Committee. Oahu, Church of Christ, Kealakekua, St. John's Church, Unity Church, The Labyrinth Society, Department of Education, Hawaii, Life Fest Maui and Maui Memorial Medical Center
808-243-(PATH) 7294